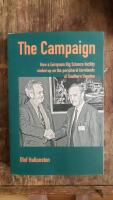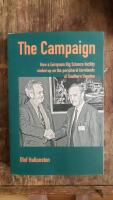 Häftad bok. Arkiv förlag/A-Z förlag. 2020. 334 sidor.
Nyskick.
Förlagsfakta
ISBN

9789179243449

Titel

The Campaign : how a European Big Science facility ended up on the peripheral farmlands of southern Sweden

Författare

Hallonsten, Olof

Förlag

Arkiv förlag/A-Z förlag

Utgivningsår

2020

Omfång

334 sidor

Bandtyp

Häftad

Mått

152 x 230 mm Ryggbredd 20 mm

Vikt

488 g

Språk

English

Baksidestext

The European Spallation Source (ESS) is by far the largest Big Science facility ever built in Sweden. First proposed in the early 1990s, it took until 2015 before construction could start, and when it did, it was at an unlikely place. Lund, Sweden, a small village in the outskirts of Europe, is neither a neutron stronghold or among the usual suspects for hosting European Big Science. This book tells the story of how the ESS ended up in Lund. It traces the idea of a Scandinavian ESS from the first meetings of enthusiasts in 2000, through the near-collapse of the project on European stage in 2003 2005, the political breakthrough in 2007, and the decision in favor of Lund in 2009. It analyzes the campaign on local, regional, national and international stage, its political struggles, its efforts to downplay risks by promising spectacular returns for investment, and the painstaking process of getting European governments to approve Lund as site for the ESS, and make the required investments. Olof Hallonsten has written a unique story about how a very large European research facility survived and ended up in Lund, in a small country. It shows how traditional European policies, favoring large countries, broke down, but also how decentralized and democratic Sweden managed to come to a decision in a difficult trade-off between huge costs and possible, but by no means sure benefits. It also shows how Europe still suffers from its reliance on national funding for Big Science, and therefore from cumbersome site decisions. Peter Tindemans, former chairman of the OECD Megascience Forum and the ESS R&D Council This book tells the story of how a grass-root initiative grew into a political megaproject in Sweden. Grandiose hopes of creating an internationally attractive research environment, that would put Sweden on the world map, led the government to accept major funding commitments, with the ESS project still insufficiently anchored in Swedish scientific communities. The Campaign chronicles the story with great detail, thriller-like nerve, and with elements of mystique around both the decision-­making process and the political ambitions involved. MarieLouise Samuelsson, journalist Olof Hallonsten is a sociologist of science, specialized in the politics and organization of science. He has written several internationally published books and articles on Big Science, and has followed the ESS project closely in his research since 2004.
Arkiv förlag/A-Z förlag
9789179243449