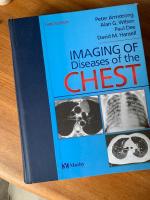 Inbunden bok. Mosby Ltd. 3rd edition uppl. 2000.
Hyggligt skick. Skyddsomslag saknas. 4 kg bok!
Med understrykningar, något lös vid ryggpärmen, sektion skrivet i spritpenna över "sidryggen", hörnslitage och något missfärgad vid sidryggen.

Product Description
IMAGING OF DISEASES OF THE CHEST covers all imaging aspects of the lungs, the pleura, and mediastinum. Written by a team of renowned authors, this one-volume, comprehensive resource integrates all available imaging modalities. Chapters are organized by diseases and disorders, allowing for fast navigation through the text. Important information is conveniently summarized in chapter outlines, summary tables, and key points.
About the Author
Peter Armstrong, MB, FRCR, Mercer Professor of Radiology, Academic Department of Radiology, St Bartholomew's Hospital, London, UK
Alan G. Wilson, BSc, FRCR, Consultant Radiologist, X-Ray Department, St George's Hospital, London, UK
Paul Dee, MB, BS, FRCR, Professor of Radiology, University of Virginia Medical Center, Charlottesville, USA
David M. Hansell, MB, BS, MRCP, FRCR, Consultant Radiologist, Department of Radiology, Royal Brompton Hospital, London, UK

Mosby Ltd.
3rd edition
9780723431664